Come and join us in Montreal
720: Pain Reset for the Neck and Upper Extremity
November 9-10, 2019
721: Pain Reset for the Hips and Lower Extremity
January 18-19, 2020
722: Gait Influences on Chronic Pain
February 29-March 1, 2020
723: Pain Reset for the Back and Pelvis
April 4-5, 2020
724: Pain Reset: Brain-Based Manual Therapy
June 6-7, 2020
The courses will be held in the Action Sport Physio downtown clinic.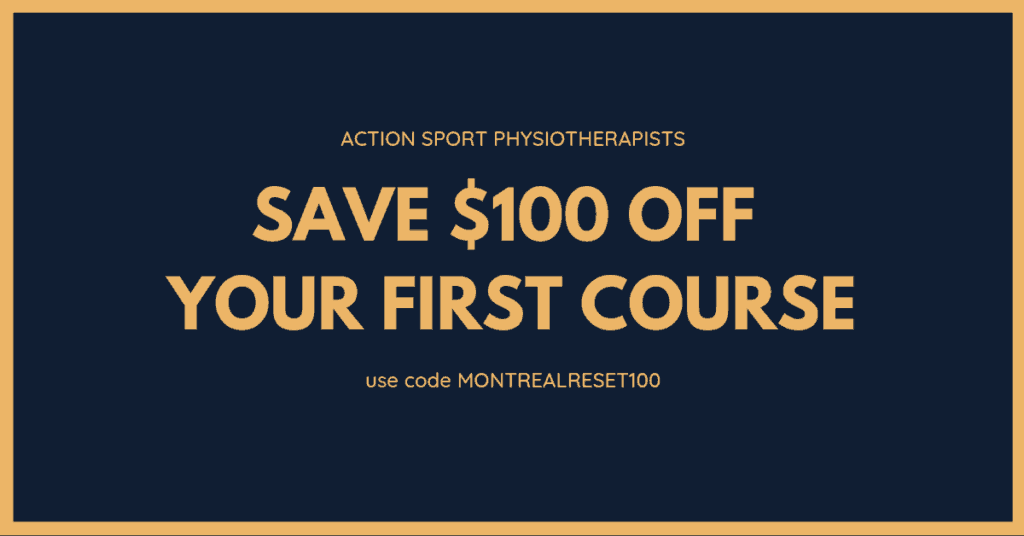 For Action Sport Physiotherapists, if you register for the first class by July 1st, 2019, get $100 off on the tuition using code: MONTREALRESET100 
Instructors
Adam Klotzek DC, DACNB, FACFN, FABCDD, FABVR, FICC, Professor of Neurology Carrick Institute
Freddys Garcia MS, DC, DACNB, FACFN, FABES, Assistant Professor of Neurology Carrick Institute
Leveraging Neuroscience for your Clinical Success
This groundbreaking 5-part series provides practitioners with powerful, practical tools that incorporate the latest neuroscientific discoveries in the treatment of pain, paired with a neurological model for assessing and treating musculoskeletal conditions. The Pain Reset Neurology Series involves the synthesis of over 31 years of combined clinical practice experience in neurology, biomechanics, and rehabilitation.
How we move and feel as we navigate our environment is the product of our neurology and biomechanics.
Abnormalities in the central neurological systems that influence movement and posture can produce biomechanical faults manifesting as painful syndromes. Participants in this series will gain an increased understanding of these influences resulting in improved patient outcomes.
The Pain Reset Difference
What sets Pain Reset apart from other programs is our methodology behind creating individualized treatment plans that combine biomechanics and neurology.
Bird dogs and planks don't work for everyone. Why is it that our traditional protocols work for some, but not for others? Each nervous system and body is unique—not one person moves or processes pain the same way. The Pain Reset modal allows the clinician the level of individuality needed to effectively assess a patient's neurological & biomechanical systems.
This is a learning-by-doing program.
This is not just a course on pain theory. This is a course that will teach you what to do when you really understand pain theory. The Pain Reset series highlights hands-on examination and treatment protocols.
In the past, most of our treatment plans were solely based on biomechanics. Now, with the understanding of modern pain neuroscience and taking into account an individual's neurophysiology, clinicians can be more accurate and specific in their treatment plans for improved patient outcomes.
Rebuilding Pain Free Movement
The Pain Reset programs teaches you how to observe, deconstruct and reconstruct movement in order to achieve neurological and biomechanical integrity.
The Pain Reset Neurology Series provides participants the opportunity to:
Observe your patients through a neurological lens.
Interpret how these neurological influences affect an individual's biomechanics and their ability to inhibit pain.
Learn a fluid & dynamic model to treat pain. This model combines neurophysiology and neuro-biomechanics in a way that is quick, effective and reproducible.
Who is this class for?
The Pain Reset Neurology Series is designed for healthcare professionals who are seeking improved clinical outcomes in the treatment of pain. The program will be of further interest to those practitioners who attend to patients suffering from chronic pain conditions who have been otherwise unresponsive or under-responsive to previous care.
The healthcare professions that can attend this program are: MD, DC, DO, PT, OT, ATC, LMT, ND, LAc, PA, NP, CA (If accompanied by DC).  If you have any questions about your eligibility to attend this program please contact admissions@carrickinstitute.com
Benefits for the attendees of the Pain Reset Series
Accuracy – Know exactly where to focus your treatment for maximum results.
Speed – Learn techniques that can yield instantaneous positive effects.
Reproducible – Learn a model that is fluid and dynamic.
Results – Achieve improved clinical outcomes.
Reset Podcast
Enjoy this podcast with Dr. Klotzek where we discussed the visual, vestibular and proprioceptive systems, and he explains why each needs to be assessed in the pain or musculoskeletal patient. You can also download the Reset Series podcast here.
Reset Tips
Enjoy these short lectures by Dr. Adam Klotzek that preview the topics covered in the Pain Reset Series.
Frequently Asked Questions
Do I have to take all the parts in the series or can I pick and choose?
Modules 1-3 and module 5 are designed as standalone modules and can be taken in any order. It is recommended that due to the complexities of treating Low Back and Pelvic Pain participants thinking about taking module 4 would benefit the most by attending modules 1-3 prior to enrolling in module 4.
Why Carrick Institute?
The Carrick Institute has provided clinical education for healthcare professionals for over four decades. Our faculty are experienced clinicians & educators that have an international reputation for excellence.  The Carrick Institute strives to create the best clinicians in the world for the purpose of serving humankind.
What's included with my registration?
Those who register for any part of the series will be provided with:
A flipped classroom learning portal to prepare you for the 2-day seminar.
A hands-on educational environment.
A workbook to help you better organize and retain the material taught.
3 months of unlimited access to Medline after completion of any module.
And a few extra surprises that we cannot wait to show you!
What is our method & practice of teaching?
We Use a Flipped Classroom Approach: Participants can review supportive research prior to each class. This allows for more class time to be spent on open discussions and active demonstrations of core concepts and applications.
We Use Learning by Doing Approach. Each course is structured to provide ample hands-on time to practice the concepts and applications being presented.
We Believe In Research Access: All participants are given access to the Carrick Institute library and Medline access.
Who can attend?
To attend this program, participants must maintain an active license in a healthcare profession whose scope of practice allows the examination and treatment of musculoskeletal conditions.
What you need to know.
Dress is casual as this module is designed to have a high degree of hands-on practicums that will ensure each learner attains a competency in the evaluation and treatment applications presented.
How do I attend the Pain Reset Series?
This program, because of its hands-on nature, is only available through onsite learning. Please check the academic calendar below to see the locations and modules that are currently being offered.
Pain Reset Neurology Series Locations and Dates
San Francisco, California
720: Sept 22-23, 2018
721: November 3-4, 2018
722: January 12-13, 2019
723: March 23-24, 2019
724: June 1-2, 2019
New Jersey
720: Oct 6-7, 2018
721: December 1-2, 2018
722: February 9-10, 2019
723: April 27-28, 2019
724: July 20-21, 2019
Atlanta, GA 
720: April 27-28, 2019
721: June 22-23, 2019
722: August 17-18, 2019
723: September 14-15, 2019
724: December 14-15, 2019
Sat 25
January 25 @ 9:00 AM - January 26 @ 9:00 AM EST