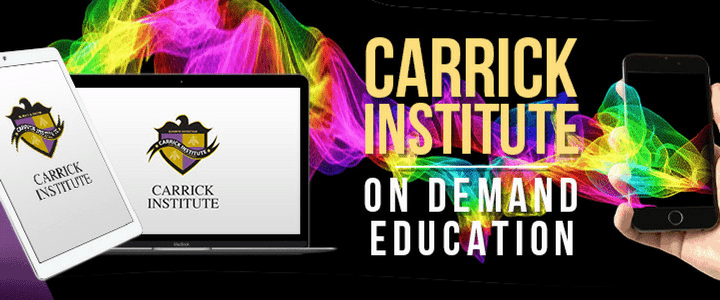 On-Demand Learning: Carrick Institute
Why On-Demand?  Increasing the value of your education impacts your life and the lives of those around you.  In the Neuro Community, lifelong learning is just part of the package.  In today's world, higher learning doesn't have to drastically affect your day-to-day schedule.  Now you have the chance to grow at your own pace, on your own time, from (just about) anywhere in the world.  Start your on-demand education with Carrick Institute today!
Study to become a Board-Certified Clinical Neurologist, or simply choose on-demand courses which appeal to you.
The Carrick Institute empowers clinicians and students with the tools necessary to better serve humankind as the Clinical Neurologists of tomorrow by providing them with the most up-to-date information available today. The highest standards in education, patient care, and innovation are upheld by our dynamic faculty, who share a common commitment to this cause.
Since 1979, Dr. Carrick and the Carrick Institute have been the leading authority in the training of physicians and therapists in the field of postgraduate clinical neurology. Over 14,000 clinicians have taken courses with Carrick Institute, in an effort to serve millions of patients at a higher level.
[divider style="0″]
9 Benefits of Taking Carrick Institute On-Demand Courses:
Attend on-demand classes anytime, anywhere, all you need is web access.
Access course materials 24 hours a day, 7 days a week for one year.
Learn from renowned instructors around the world, broadening your perspective.
Enhance your ability to help patients.
Take advantage of course notes to help guide you through the lesson.
Interact with instructors via video and text chat.
Take quizzes to assess retention of the material.
View your courses for one year, as many times as you like.
Enjoy the total flexibility of on-demand education.[divider style="4″]


Choose From Hundreds of
On-Demand Courses Within Multiple Programs

[content_toggle style="1″ label="Clinical%20Neuroscience" hide_label="Hide%20Clinical%20Neuroscience"]

801 / 901 – Neuron Theory & Receptor Activation: 
Advanced components of neuronal structure and activity will be reviewed with emphasis on the relationship between environmental potentials and their effects on the central nervous system. Clinical applications of the breadth and depth of information will be emphasized.

802 / 902 – Neuromuscular Applications: 
Emphasis will be placed on the structure and function of the motor system in relationship to receptor activation. The relationship between brain/muscle spindle sensitivity/gain and muscle tone will be explored. Methodology concerning brain based activation of the neuromuscular system will be presented.

803 / 903 – Peripheral Nervous System:
Structure and function of the peripheral nervous system will be reviewed with emphasis on the clinical syndromes most commonly associated with lesions in the system. The central consequences of such lesions will be discussed in relationship to neuronal function thus developing new methodologies of diagnosis and treatment.

804 / 904 – Spinal Cord:
Detailed review of the structure and function of the spinal cord with emphasis on clinical syndromes. Also to be presented is structured methodology to differentiate between various clinical syndromes directly and or indirectly involving the spinal cord. Applications in the treatment of the spinal cord injured patient will be explored.

805 / 905 – Reflexogenic Systems:
Review of the structure and function of spinal cord reflexes from monosynaptic to cross cord reflexes. Clinical applications will we emphasized in relationship to the use of modalities in the treatment of central and peripheral based disorders of muscle tone.

806 / 906 – Autonomic Nervous System:
Emphasis will be placed on the structure and function of the ANS in relationship to respiratory, cardiovascular, gastrointestinal, and genitourinary function and pathology. Autonomic concomitants associated with central and peripheral lesions will be reviewed. Clinical methodology involving diagnosis and treatment of neurological dysfunction of the ANS will be reviewed.

807 / 907 – Cerebellar Cortices:
Review of the major afferent and efferent projections of the cerebellum as well as the central/peripheral consequences of cerebellar pathology. The relationship of labyrinthine integration to occular movement will be discussed in detail with emphasis on its clinical application.

807 / 907 B – Spinal Cord & Cerebellum:
Designed to enhance clinical skills in analysis, treatment protocols and rehab, this module addresses the anatomy functional neurophysiology between the spinal cord and cerebellum with the major emphasis placed on the cerebellum.

808 / 908 – The Brain & Its Environment:
Review of the internal and supportive structures of the brain with emphasis placed on the major afferent and efferent projections associated with brain activity. Lesions of the supportive structures of brain and the clinical methodology used in determining brain vascular integrity will be discussed. Applications specific to brain based treatments will be explored in detail.

808 / 908 B: Brain:
The module explores the anatomical and neurofunctional structures of the human brain. Laced with clinical information, this module is filled with analytical gems and adjusting applications to enhance the patients probability toward a higher quality of life.

809 / 909 – Cranial Nerves:
Complete review of the structure and function of the cranial nerves with emphasis on their clinical syndromes. Applications and procedures specific to this area of the nervous system will be covered in detail both didactically and practically.

810 / 910 – Lobes of the Brain:
Review the basic functions and structures associated with the frontal, parietal, temporal and occipital lobes. Methodology involving the use of optokinetic stimulations and other brain based diagnostics and therapeutics will be reviewed.

811 / 911 – Neurological Diagnosis:
Presentation of a structured format in approaching the neurological examination. Emphasis will be placed on reviewing the most common syndromes one may encounter during the practical portion of the exam as well as methodology to understand and apply non Cartesian logic.

812 / 912 – Sensory Systems:
The major sensory pathways will be discussed specific to their structure and function. Central processing of sensory information will be reviewed in relationship to thalamic and cortical integration. Disorders of the sensorium will be reviewed and methodology introduced to aid in differentiating these disorders from central and peripheral origins. Applications specific to the treatment of the sensorium will be explored.

813 / 913 – Pain:
Pain generating mechanisms will be reviewed from the receptor to central processing. Central mechanisms for pain inhibition and facilitation will be reviewed with emphasis placed on the clinical syndromes associated with pain integration. Methodology specific to chiropractic modalities will be reviewed as well.

814 / 914 – Head & Face Pain:
The most common syndromes involving head pain from migraines to trigeminal neuralgia will be reviewed. Afferent pain pathways from the face will be reviewed in regards to their structure and function. Applications specific to the facial pain sufferer will be presented.

815 / 915 – Motor Systems:
Discussion of the structure and function of the major volitional and non volitional motor pathways. Function of the basal ganglia, cerebral cortex, cerebellum, brainstem and spinal cord will be discussed in relationship to the human motor system. Applications specific to the diagnosis and treatment of both central and peripheral pathology will be covered.

816 / 916 – Peripheral Nerve Disorders and Neurophysiologic Testing:
A review of Peripheral nerve injury, entrapment, and diseases will illustrate peripheral nerve dysfunction. The neurophysiologic testing of peripheral nerves including nerve conduction velocity, late responses, and needle electromyography. Case studies will help the learner correlate the neurophysiologic testing with the nerve dysfunction. This is not a technical module on how to do the procedures. This is reserved for the Electrodiagnosis Specialty Modules with the on-line modules.

817 / 917 – Neurological Imaging:
Presentation of a comprehensive inventory of diagnostic imaging specific to the neurological system. Methodology of interpretation of testing and practical applications complimentary to the neurological examination.

818 / 918 – Neurological Rehabilitation
Presentation of applications specific to the disorders of the human nervous system. The candidate will learn how to apply advanced applications specific to all areas of the nervous system studied in the Graduate School Program of Clinical Neurology. These advanced modules will be based upon practicums and patient based paradigms.

819 / 919 – Movement Disorders
Presentation of applications specific to the disorders of the human nervous system. The candidate will learn how to apply advanced applications specific to all areas of the nervous system studied in the Graduate School Program of Clinical Neurology. These advanced modules will be based upon practicums and patient based paradigms.

820 / 920 – Cardiac Functions
Presentation of applications specific to the disorders of the human nervous system. The candidate will learn how to apply advanced applications specific to all areas of the nervous system studied in the Graduate School Program of Clinical Neurology. These advanced modules will be based upon practicums and patient based paradigms.

821 / 921 – Digestion & Reproductive Function
Presentation of applications specific to the disorders of the human nervous system. The candidate will learn how to apply advanced applications specific to all areas of the nervous system studied in the Graduate School Program of Clinical Neurology. These advanced modules will be based upon practicums and patient based paradigms.

822 / 922 – Neurological Examination
Presentation of applications specific to the disorders of the human nervous system. The candidate will learn how to apply advanced applications specific to all areas of the nervous system studied in the Graduate School Program of Clinical Neurology. These advanced modules will be based upon practicums and patient based paradigms.

823 / 923 – Neurological Review
Presentation of applications specific to the disorders of the human nervous system. The candidate will learn how to apply advanced applications specific to all areas of the nervous system studied in the Graduate School Program of Clinical Neurology. These advanced modules will be based upon practicums and patient based paradigms.

824 / 924 – Clinical Applications of Joint Manipulation:
This program of study is central to the hands on adjusting of joints without the use of instrumentation or anesthesia. Our program is designed to promote maximum skill acquisition in adjusting by the Chiropractor. The participant will be immersed in practical application learning scenarios based upon a neurological model of health care.

825 / 925 – Introduction to Functional Neurology and Receptor Based Rehabilitation:

This program focusses on some practical and effective ways of applying Neurology for the practicing clinician.

Learn what is Functional Neurology, its foundational concepts and why it will transform your practice
Learn assessments and tests to get insight into a patient's neurological presentation
Cased-based learning by reviewing Dr. Carrick's patient videos demonstrating how he reached his diagnosis and his treatment approach
See functional neurology clinical applications that you will be able to apply with your patients

Clinical Neuroscience 20 Module Bundle
A bundle of 20 modules of the 800 Series (15 credit hour modules).
[/content_toggle]

[content_toggle style="1″ label="Movement%20Disorders" hide_label="Hide%20Movement%20Disorders"]
Module 1 – The basal ganglia in health and disease
This module will discuss  the anatomy and physiology of the basal  ganglia from a functional point of view.   The role of the basal ganglia in health and disease will be explored  with major attention focus to clinical examinations at the bedside.
Module 2 – The clinical movement  disorder phenotypes
Movement disorders are largely individual but they can be grouped into certain phenotypes. This learning module will develop an understanding between the relationships of different presenting movements disorder classifications. The learner will be exposed to tremor,  Chorea,  myoclonus, hemiballismus, gait disturbances and more.
Module 3 – The diagnosis, etiology, epidemiology and treatment of dystonia
Dystonia imprisons patients in a clinical cage. This knowledge module will introduce primary and secondary dystonia  through their phenotype and physiological origins. A paradigm based upon patient applications will enable a comprehensive understanding of generalized dystonia as well as conditions of writer's cramp's, spasmodic torticollis, cerebral palsy and other inherited dystonia.
Module 4 – Clinical applications in the diagnosis and treatment of movement disorders:

Saccadic and pursuit eye movements
Manipulation as movement disorders treatments
Vestibular Ocular Responses to Angular and Translational Movements
Cerebellar based treatments
Neostriatal based treatments
Frontal lobe based treatments
Parietal lobe based treatments
Occipital lobe based treatments
Substantia Nigra based treatments
Mesencephalic based treatments
Pontine based treatments
Medullary based treatments
Spinal Cord based treatments

Entire Program Bundle – Movement Disorders
[/content_toggle]

[content_toggle style="1″ label="Clinical%20Neurochemistry%20%26%20Nutrition" hide_label="Hide%20Clinical%20Neurochemistry%20%26%20Nutrition"]
Module 1 – Core concepts and principles of Clinical Neurochemistry

Neuron and synapse structure and physiology
The internal biochemical environment of the neuron
Neural Membranes
Neuron biogenergetics
Neurotransmission
Disorders of the membranes, energetics, and neurotransmission
Physical and neurological examination correlates
Clinical Conditions discussed: Epilepsies, Stroke, Pain

Module 2 – The Four Systemic Metabolic Priorities that Affect Neuron Health and Function

Iron and Red Blood Cell Chemistry
Blood Sugar regulation and Adrenal Gland physiology
Liver and Gastrointestinal physiology
Autoimmunity
Physical & Neurological examination correlates
How to use Laboratory Testing
Clinical Conditions Discussed: Type 2 Diabetes, Hypothyroidism, Fatigue, Anemias, Hepatic Biotransformation, Adrenal dysfunction

Module 3 – Systems Neurochemistry

Autonomic Nervous System
Neuromuscular Junction
Basal Ganglia
Cerebellum
Hypothalamus
Limbic System
Vestibular System
Clinical Conditions discussed: BPPV, Chronic dizziness & dysequilibrium, Anxiety, OCD, PTSD, Insomnia, Peripheral Neuropathies

Module 4 – Neuroimmunology & Neuroinflammation

The Immune-Neuroendocrine Network
Cytokine Receptors and Production in the Brain
Effects of Cytokines on Brain Function
Effects of Immune System on Brain Neurochemistry
Regulation of the Inflammatory Response in the Brain
Neuroimmune Cross Talk
Role of Glia in CNS inflammation
Autoimmune processes in the Central Nervous System
The inflammatory component of Neurodegeneration
Clinical Conditions discussed: Multiple Sclerosis, Demyelinating conditions, Depression, Migraine, CRPS, TBI, Intestinal Permeability, Schizophrenia, Bipolar Disorder, Autism

Module 5 – Neurodegeneration

β amyloid
α synuclein
Tau
Neurofibrillary tangles
Stages of Alzheimer's Disease
Glutamate
Necrosis and apoptosis – cell death and survival
Mitochondrial dysfunction, excitotoxicity, oxidative stress
Genetics
Clinical Conditions discussed: Parkinson's, Alzheimer's, ALS, Dementia, Encephalopathies, TBI, Autism

Module 6 –  Review & Clinical Applications of Core Concepts & Principles

In this last module, we will weave all previous modules together into a robust and flexible diagnostic and treatment model utilizing what we've been talking about all along:

Neurochemistry principles
Patient History
Physical/Neurological examination
Lab Testing
Diet modification
Supplementation

Entire Program Bundle – Clinical Neurochemistry


[/content_toggle]

[content_toggle style="1″ label="mTBI%2FConcussion" hide_label="Hide%20mTBI%2FConcussion"]This Concussion/mTBI program, in its entirety is 350 hours. Each module is 25 hours of learning.

[/content_toggle]

[content_toggle style="1″ label="Brain%20Dissection" hide_label="Hide%20Brain%20Dissection"]
Brain Dissection On-Demand for Clinicians: Examining Structure and Function

A 25 hour course under the direction of Prof. Frederick R. Carrick, DC, PhD, MS-HPEd
Brain dissection is not new.  It has existed as a primary teaching tool for clinicians for a very long time.  But the Carrick Institute brain dissection program is uniquely designed for clinicians because it takes an in-depth look at the brain in more detail than a standard dissection course.  Throughout the course, Dr. Carrick leads doctors on an exciting journey of function related to structure.  Each area of the brain is carefully dissected, discussed and described in depth by Prof Frederick R. Carrick.

This incredible 25 hour on-demand class will allow you access to the full the brain dissection course at your own pace, so you can be sure to fully grasp the material.  If you missed the brain dissection course in person, or if you want to review, on-demand brain dissection provides an opportunity for long term knowledge retention you can't get elsewhere.  The course will also include an exam to assess and reinforce the materials covered.

[/content_toggle]

[content_toggle style="1″ label="Eye%20Movements%20″ hide_label="Hide%20Eye%20Movements"]
270 – Quantitative Evaluation of Visual Saccades in Traumatic Brain Injury and Neurodegeneration On-Demand
271 – Pursuits On-Demand
272 – Gait On-Demand
273 – Clinical Symposium On-Demand
275 – Human Gait and Movement On-Demand
276 – Advanced Human Gait and Movement On-Demand
[/content_toggle]

[divider style="0″]

Q&A