Check Out this Special ISCN 2018 Highlight, Available for a Limited-Time!
This Week's 2018 Highlight: Dr.Mayur Narayan
To see more experts like this and continue your learning, register below!
The 2019 International Symposium on Clinical Neuroscience is a weekend-long event and we are inviting you to join us on May 24-26, 2019.
On May 24-26, 2019 top scientists and clinicians from around the world will be sharing the stage with Carrick Institute faculty at the International Symposium on Clinical Neuroscience.
The International Symposium on Clinical Neuroscience (ISCN) annual conference gathers the leading physicians and researchers in the field, to share their work and understandings of pivotal concepts in clinical neuroscience, which will allow us to further assist our patient populations
The International Symposium on Clinical Neuroscience was created as a scheduled gathering of the top minds in the discipline. The Clinical Neurosciences depend upon a multidiscipline approach to health care and the ISCN has become recognized throughout the world as a premier clinical, educational program that assists our scholar-professionals to serve humankind with applications that are current, distinct and meaningful.
The ISCN has been more than a dream started with the desire to serve humankind above self.
Marriott World Center Resort – Orlando, FL
8701 World Center Dr, Orlando, Florida, 32821, United States
TEL: 1-407-239-4200
ISCN Room Rate– King or Double Room $189
Continuing Education (CE) Information
Chiropractic -Colorado, Connecticut, Delaware, Florida, Georgia, Indiana, Massachusetts, Mississippi, Missouri, Montana, North Carolina, Oregon, Tennessee, Utah, Washington, and Wyoming (pending: California, Texas, Pennsylvania, New Jersey, Minnesota, South Carolina)
OT: Florida
Physical Therapist and PT assistants: Florida
Acupuncturist: Florida
If you are in need of continuing education hours for a different profession and/or states not listed above, please fill out a CE request with the link below.   Applications must be received 90 days in advance to assist with state board deadlines.
If you are in need of continuing education hours for one of the states above OR a state not listed, please fill out a CE request with the link below. Applications must be received 90 days in advance to assist with state board deadlines.
Course Information
Participants must sign in at the beginning of class, and out at the end of class daily to receive course credit. All modules are monitored by an assigned class registrar. If a scholar is not present, the registrar will note this information on the class roster. If you do not check in and out daily, you will not receive credit for your attendance.If at any time you have questions, please email admissions@carrickinstitute.com.
Dress Code
There is a business attire dress code for the ISCN Congress. Jacket and tie for men and professional business for women.
What's Included with my ISCN Ticket
Lunches included
50+ cultivated exhibitors
1 ticket to the Star Studded Gala
ISCN 2019 On Demand Videos for your review
3 months unlimited access to Medline
Submit an Abstract
Share your clinical research with international colleagues who are actively aligning clinical practice with advances in neuroscience. We welcome abstracts related to the field of clinical neuroscience. Investigators at all career stages are encouraged to submit one or more abstracts.
Abstracts will be peer-reviewed and acceptance will be based on content, available space, and overall program balance. The ISCN is especially interested in case studies and case series of clinical research. All abstracts will be presented as posters with assigned author times from May 24-26, 2019.
ISCN Publications – Accepted abstracts will be published in the journal Frontiers in Neurology (index factor 3.225) and listed on the ISCN website. Unless otherwise requested, ISCN reserves the right to publish titles, authors, affiliations, and full text of submitted or accepted abstracts on the website or any other digital or print publication.
Abstract submissions are $25 per abstract.
Deadline for ISCN Abstract submissions is April 1st, 2019.
When creating a research poster, PowerPoint is a very effective tool, particularly when the poster will be displayed digitally. PowerPoint has special algorithms to allow a slide to be expanded larger than it was originally created with minimal loss of quality. This is why you can see a presentation on a 300" screen at a conference, and a 20" screen on your computer, with the same quality.
This tutorial will walk you through the steps to make a BASIC poster and a more ADVANCED poster, depending on how creative you wish to be. The important things to remember are to 1) Make sure they are created in WIDESCREEN mode and 2) Make sure you Export the file as a JPEG at 1920×1080 resolution, or greater. These are both described in the tutorial.
ISCN 2018 Official Recap Video
Testimonials

"This was the most powerful event I have attended in my Chiropractic career. The information shared was powerful, and I look forward to bringing it back to my students at Life University as well as my patients. Probably the most exciting theme I noticed from all of the presentations was how patient focused the care was. There are many Doctors who are excited to set clinical goals that they can measure and accomplish that may or may not be shared by the patients. All of the cases presented were completely patient goal focused based on the "life" they were wanting to regain."
"ISCN was the best symposium I have ever been to! There was something to take from all of the speakers and each one brought a completely different perspective into brain function. The vendors were all great and the games added a little friendly competition. It was captivating, inspiring and fun. Everyone included was wonderful, people were happy to help and provide answers for those attending. I can't say enough about how much I enjoyed this year's event, I don't want to wait another year to do it again!"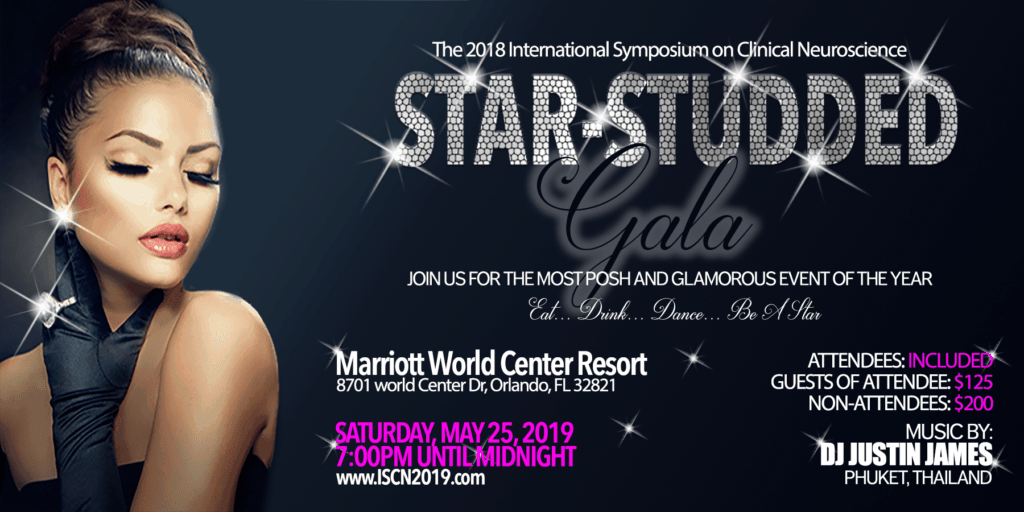 This exciting evening consists of recognizing those creating an impact in the field of clinical neuroscience. You will enjoy a formal dinner with an open bar, awards ceremony, incredible music, dancing and much more! Hours of this special event are from 7 pm – Midnight.
This year's entertainment at the ISCN Gala will be provided by international DJ Justin James. He is known for his eclectic, expansive montage of music that pleases everyone from Top40-lovers, jazz enthusiasts, club music fans, and more. He seamlessly navigates a diverse crowd's music palate with ease, to keep your feet moving all night. Justin James currently lives in Phuket, Thailand and will be coming home just for our Star-Studded International Gala.
The gala will take place on Saturday, May 25, 2019 starting at 7 PM.
Dress Code: The Gala is a Black Tie Affair. Suit and Tie for men, is acceptable.
Gala Admission
Registered delegates for the 2019 ISCN will receive one ticket of admission to the Gala. You must RSVP to reserve your ticket. RSVP to admissions@carrickinstitute.com
Additional Guests Gala Ticket Pricing
Price for additional guests of ISCN registered delegates: $125.00
Price to attend as a Non-ISCN delegate: $200.00

May 2020
$150 – $1050

To learn more about the International Symposium on Clinical Neuroscience, please visit the main program page by clicking here.
Find out more »
+ Export Events