HYPERBARIC OXYGEN THERAPY (HBOT)
A KEY MODALITY IN THE HEALING AND RECOVERY OF NEUROLOGIC CONDITIONS
Hyperbaric Oxygen Therapy (HBOT) is a treatment in which a patient breathes air or varying amounts of oxygen while inside a pressurized chamber, the pressure being anything above 1 atmosphere.
The healing power of oxygen is not something new. The use of hyperbaric therapy dates back nearly 350 years. The very first hyperbaric chamber was created in 1662 with the clinical use of hyperbaric oxygen therapy starting in the mid 1800s. During the 1960s, studies began to show a wide variety of beneficial uses for HBOT therapy. Today, there are over 150 internationally approved conditions for which hyperbaric oxygen therapy has been shown to be effective and beneficial.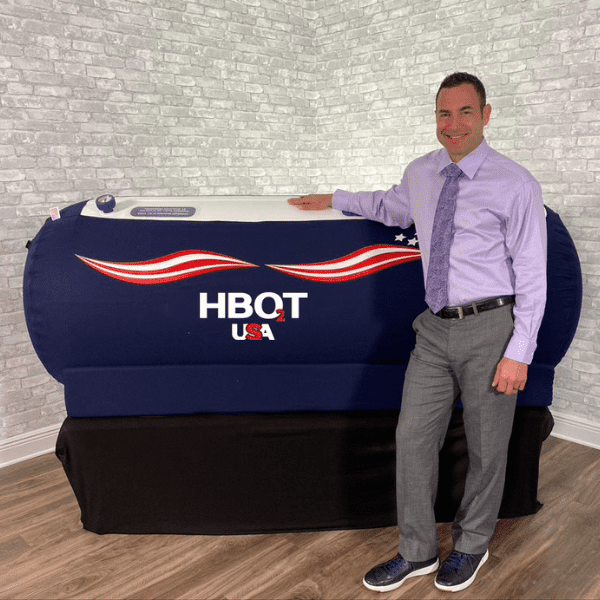 You probably have some questions…
ABOUT HYPERBARIC OXYGEN THERAPY
Traditionally HBOT has been used for diabetic foot wounds, air and gas embolism, carbon monoxide poisoning and smoke inhalation, gas gangrene, thermal burns, decompression sickness and acute mountain sickness.
Today, we help treat everything from diabetes, low energy, Lyme disease, cerebral palsy, head injuries, chronic fatigue, brain injuries, multiple sclerosis, ALS, anemia, wound and scar healing, post stroke care, post surgical care and healing, improved performance, autism, dementia and bells palsy just to name a few.
At HBOT USA we offer treatments in our clinics as well as in-home HBOT chambers. Call to learn more about the benefits of hbot therapy.
A Holistic & Natural Approach
IS HBOT SAFE?
Hyperbarics is a safe alternative to many medical treatment options offered to patients today. Some hyperbaric patients may report some mild ear pressure discomfort. This discomfort is similar to the pressure felt when ascending or descending in an airplane. Discuss these concerns with your physician and hyperbaric therapy professional.
Our clinics provide a safe, comfortable and welcoming environment for your hyperbaric therapy needs. We have hard and soft sided chambers in our offices and offer mild to high pressure depending on the needs of our patients.
Our in-home HBOT therapy chambers offer you the benefits of oxygen therapy right in your home. Our chambers offer you all the benefits of HBOT therapy without the hassle and emotional distress that oftentimes come with traveling and being in medical environments.
DOES INSURANCE COVER HBOT THERAPY?
In the United States, there are certain indications which insurance covers hyperbaric therapy  This includes gangrene, radiation burns, carbon monoxide poisoning and decompression sickness. Traditionally insurance does not cover these treatments for the conditions we are using it for.  If you are not sure if your condition is covered feel free to call us and ask!
IS HBOT SAFE FOR CHILDREN?
Yes, hyperbarics yields wonderful results with children. In fact, research with children suffering from brain-injuries, learning and developmental delays, autism and genetic disorders shows positive results and great promise. Call us to learn more about HBOT therapy for your children. Our in-home chambers offer many of the same benefits as our office HBOT therapy chambers. Ask us which is a better fit for you and your family.
Are there age restrictions…
IS HBOT SAFE FOR THE ELDERLY?
Most definitely. Hyperbarics is great for those in their later years. Hyperbarics provides an immeasurable boost which counteracts the signs of aging. In fact, new research indictes that hyperbaric oxygenation slows Apoptosis (cell death), and helps with diabetic neuropathy, dementia, Alzheimer's and overall energy and healing.