Motion Guidance Clinician Kit
We would like to introduce you to a proud affiliate of the Carrick Institute, Motion Guidance. Practitioners of clinical neuroscience are successfully integrating the Motion Guidance visual feedback tool into their practices all over the world.
The concept is simple: adding visual feedback external cues to any body part, to assess deficits in positional awareness, fine motor skill, and coordination.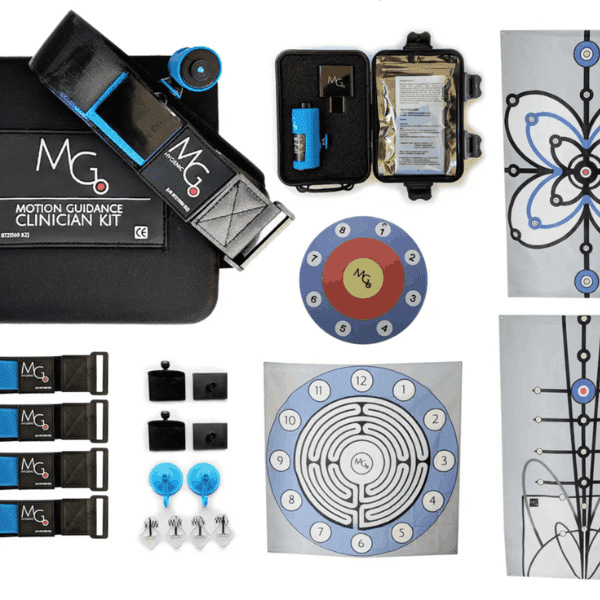 about the Motion Guidance Clinician Kit
This is our latest generation of the Motion Guidance "Clinician Kit" . The Clinician Kit includes everything you need to set your clinic up with visual feedback, for any body part! The Clinic Kit comes with one green rechargeable laser laser (low level, 1mW power), 4 hygienic body straps (S,M,L,XL) which compliment any body part and easily clean between patients, and a variety of tracking mounts and targets.
Here's a look at what you are getting:
A Soft-Shell Case
1 Green Laser with Case and USB/Wall Charging Components
2 of Each Mounting Piece (Flat and Perpendicular)
1 Extra Large, 1 Large, 1 Medium, and 1 Small Hygienic Body Straps (Wipeable Material)
2 Suction Hooks and 4 Sticky Hooks
A Double Sided Thick 3×5′ Tracking Grid
A Thin 4×4′ "Maze and Clock" Hangable Grid
1 Colored Silicone Hangable "Circle Target"