Professional LxH Dynamic Disc Model
Features include:
new cauda equina with optional rootlets (blue) (2020 update)
circumferential (diffuse) disc bulge
superimposed disc protrusion
limacon shaped annulus
peripherally exposed calcified endplate
elastomeric white articular cartilage
subchondrial bone exposed with a hyaline fibrillation
bone coloured L5
white superior endplate matching the colour of the articular cartilage
blue coloured intervertebral disc innervation
Flexible and dynamic herniating (or prolapse) nucleus pulposus. This is achieved through a realistic 2-part intervertebral disc with 6 degrees of freedom. Nuclear migration upon manual compression through a torn annulus fibrosus explaining pain generators under load.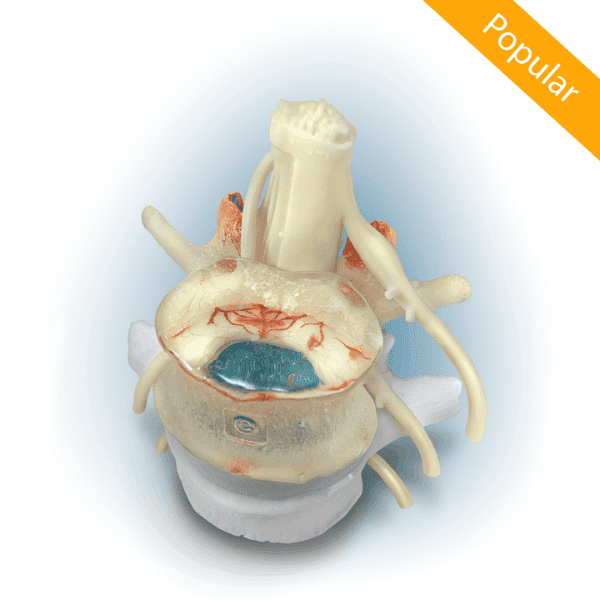 right posterior-lateral radial and circumferential(concentric) fissure
intervertebral disc innervation to the outer third of the annulus
nerve ingrowth (neo-innervation) to the inner two-thirds of the damaged annulus to help demonstrate chronic pain
left partial posterior-lateral radial tear matching up to the disc protrusion (contained nucleus)
anterior circumferential tear
transparent L4
randomly scattered and embedded black nuclear structures to show nuclear shifting dynamics through the L4 view lens easily
L5 superior endplate pores (black)
L5 superior endplate lesion (red)
vasculature in L4 vertebral body (red)
facet subchondrial vascularization (red)
facet tropism (L5 inferior)
BONUS disc disruption graphic is included as a download
Optional Features: ligamentum flavum (new design), spondylolisthesis (elongated pars, non-lytic)