Brain Dissection for Clinicians: Structure and Function
Under the direction and tutelage of Prof. Frederick R. Carrick
Faculty
Professor:
Dr. Frederick Carrick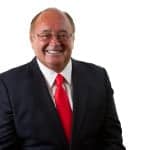 The opportunity to hold a human brain in one's hands is a gift that many clinicians never experience.  The opportunity to personally dissect a human brain under the tutelage of a master is a dream come true.  The opportunity to be guided through a clinical link between structure, function, disease and pathology with a direction for treatment is unique and very seldom embraced.  Dissection has persisted as a primary teaching tool for clinicians for a very long time, but our brain dissection program is uniquely designed for clinicians.  We lead our doctors on a journey of function related to structure, and it is a dream come true. Our scholars gain practical skills and appreciate the human brain by first-hand understanding of anatomical variability, learning teamwork and peer interaction.   Each area of the brain will be carefully dissected by the scholar under the personal tutelage of Prof Frederick R Carrick.  Prof Carrick has examined several thousand brains during his four decades of brain science and clinical application.  He credits his clinical acumen to the thorough understanding of brain function that can only be achieved by touching, seeing and assigning a function to every millimeter of nervous tissue.  Scholars will not be watching but will be doing the dissections. Prof Carrick leads advanced programs of brain dissection only once and rarely twice a decade.  Clinicians from around the world have marveled at his technique, knowledge, and ability to bring structure to function.  The artistry of brain dissection is not cartesian, and Prof Carrick demonstrates sections of the brain that you will not see in an anatomical text.  The need to explore brain relationships at a distance from a functional network or hub has necessitated novel approaches to brain dissection that have been developed by Prof Carrick.  His pedagogical approach promotes long-term mastery of difficult clinical material that then, in turn can be easily applied to the patient population.
Our high-technology world presents the opportunity to view anatomical specimens that can be digitalized, rotated and studied.  Technology can not replace the tactile sensation and feedback that one receives when personally holding a human brain.  This program novel direction in dissection techniques allows the participant to experience something that they will never forget.  Both they and their patient population are rewarded with a lasting experience that most physicians will never embrace.  There is no comparison to the experience gained in a computer anatomical laboratory.
Our participants will participate in brain dissection in small groups.  They will section human brains under expert supervision and will explore the beauty of what might be considered to be the jewelry of the universe.  By using advanced educational techniques, the scholars will prepare themselves for a long term retention of materials.  They will understand the structures behind the functional losses resulting in movement disorders, dementia, brain injury, vestibular lesions, neurodegeneration, demyelination and they will be able to touch them.  They will bring back skills and understanding that will assist them in understanding their patients better.  They will be able to "see" their patients as they have never been viewed before and be able to develop therapies based on a clearer understanding of the reality of all that is humankind. We welcome you to apply to this program. Admission to our program is limited, and registrations will be considered on a first come first serve basis.
Class Includes:
Class Scrubs Dissection tools Transportation from the recommended hotel to UCF medical school Lunch Daily
Split Payment Tuition: $695 Deposit *
*Attendees will be billed 2 additional payments of $650 to total $1,995. The total invoice must be paid off to attend the course on May 5, 2017.
[ESPRESSO_TICKET_SELECTOR event_id=11781]