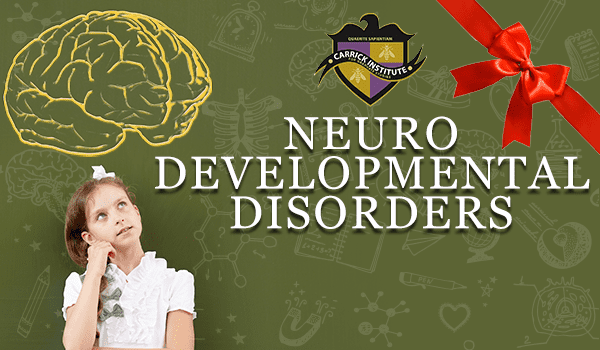 Neurodevelopmental Disorders
Take advantage of our Neurodevelopmental Disorders prepayment tuition pricing and save an additional $1,000 on the NDD prepayment option.
✨ Use code "DasherDisorder" to save on the NDD prepay. ✨
OR
Save $300 off any online, self-paced module in the Neurodevelopmental Disorders program.
✨ Use code "NeuroDancer" to save on individual modules. ✨

The Need for Highly Trained Clinicians is Greater Than Ever
With an increase in the prevalence of developmental disorders, the need for properly trained clinicians that understand the neurophysiology, know how to make the correct diagnosis, understand the co-management with various levels of healthcare and support, and have mastery of a functional neurology approach to treating these conditions is higher than ever.
That is why we created the Neurodevelopmental Disorders series. This NEW 6-module program builds on top of current best research and understanding of developmental disorders as well as the latest advancements in their treatment.
Incidence and comorbidities of NDD for the infant, toddler, adolescent and adult
Review of currently accepted etiologies and management (including medications)
Understand CNS developmental disruptions
Developmental milestones and effect of delays
Identification, pathophysiology and management of neurodevelopmental disorders
Creating an evidence-based treatment plan with measurable objective outcomes
Examination and management of the:
Brain-Gut Connection

Nutritional interventions strategies
Impact of primitive reflex development/delay
Neuropsychological Testing

Neurocognitive testing and interpretation
Achievement testing and interpretation

The American Disabilities Act

Educational Accommodations

Interventions and Treatment

High-tech and Low-tech neuro-rehabilitation
Home-based treatment programs

Parenting Strategies

Positive vs. negative reinforcement

Effects on the brain (gray matter)

Practice Management of the Neurodevelopmental Delay Clinic

Developing co-management relationships with other professionals
Developing YOU as "The Community Expert"
Patient and Student Advocacy
What type of conditions/patients will clinicians be able to address?
ADD/ADHD VS. Executive Function Disorder
Spectrum Disorders

Asperger's Syndrome
Mild-Severe Autism
Rhett Syndrome

Behavioral Disorders

OCD
Anxiety disorders
PDD-NOS
ODD
Sensory Modulation Disorders (SMD)
Intellectual disorders

Language and learning
Dyslexia
We utilize a clinical flipped classroom where participants will have reading and study materials sent to them before the class begins. They will be able to familiarize themselves with the material and complete the necessary requirements that will allow them a superior educational experience.
We want our participants to develop lifelong learning skills and mastery of their clinical applications. Participants in our program will receive a continuous follow-up of training that is delivered to their smartphone, tablets, or computer after they have completed the program at no additional cost.
All participants are given access to the Carrick Institute library and Medline access.   They will have direct access to published scientific papers that will complement their learning and increase their clinical skills.
Why the Carrick Institute?
The Carrick Institute has provided clinical graduate school education for healthcare professionals for over four decades. Our faculty are experienced clinician educators that have an international reputation for excellence.  Our course instructor is recognized throughout the world for his clinical applications in this knowledge area. Professional athletes, Olympians, Collegiate athletes, celebrities and more call on Carrick faculty members from around the world when they have suffered brain injury or neurological compromise, or any decrease in their performance.
Prepaid tuition (register for the entire 6-module program): $6600
General tuition (register less than 45 days before module start): $1,450
What's Included in Your Tuition
25 hours of lecture time within each module
All-Access to the digital recording of the class
Re-attendance – Retake the class on-site, via Livestream, or via online, self-paced learning as many times as you'd like as an audit
All-Access to the flipped classroom material 

3 months of unlimited access to Medline Access upon completion of the module
Re-attendance policy: Scholars who have registered and completed a course after December 2019 have the ability to re-attend the course with no additional fee. When re-attending a course, the scholar will not receive continuing education credits and will receive an audit. Carrick Institute is not responsible for providing new materials for class audits, including but not limited to manuals, shirts, equipment, etc. If manuals have been updated since the original attendance date, the updated materials will be available via PDF on the scholar's online portal. If the scholar would like to purchase a new paper manual, they may do so before the course start date.
To view full Terms & Conditions, click here.
The healthcare professions that can attend this program are: MD, DC, DO, PT, OT, ATC, LMT, ND, LAc, PA, NP, CA (If accompanied by DC).  If you have any questions about your eligibility to attend this program, you can contact us via the Contact Us page.