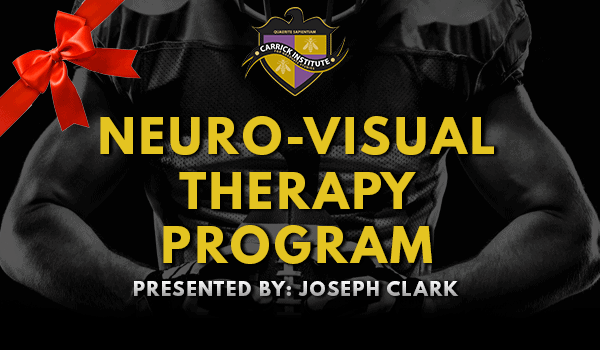 Neuro-Visual Therapy (NVT)
Save $100 off tuition for the Neuro-Visual Therapy (NVT Course)
Use code "NVTinsel" to save.
NVT is NOW AVAILABLE ONLINE, via self-paced learning & In-Person in Cincinnati, OH – June 10-12, 2022 
NVT in the Clinical Setting – The Carrick Institute's Neuro-Visual Therapy (NVT) course is designed to help physicians, athletic trainers, athletes, healthcare professionals, and performance coaches understand the  relationships between sports performance, concussion and how they relate to the neuro-visual system. Learn NVT applications, time tested in the trenches, to help you solve concussions more effectively.
Dr. Clark's presentation at ISCN 2019, previewing topics that will be covered in the upcoming NVT course.
What is Neuro-Visual Therapy?
NVT is a clinical application used to improve, enhance and/or develop the visual system, and its connections to other systems, runs more efficiently and automatically. 
Patients learn to use their visual abilities in new and more efficient ways by participating in various neuro-visual exercises, many of them performed with little or no equipment. Exercises are designed to bring a set of skills to conscious awareness, practice using those skills to mastery so they become automatic.
The overall goal of NVT is to alleviate the signs and symptoms of visual dysfunction, maximize visual and overall performance, meet the patient's needs and improve the patient's quality of life and performance.
Scholars in this course will learn the three pillars of neuro-visual therapy, including oculomotor performance, eye discipline, and processing ability.
Course Objectives: 
Define a concussion (mTBI).
List common deficiencies associated with visual disturbances post mTBI.
List common modalities associated with sports concussion baselines.
List common tests for sideline assessment.
Demonstrate use of tests concerning an absence of suspicion of an mTBI.
Identify deficiencies in a baseline test or mTBI exam.
List common methods (visual-oriented) for
Diagnosis of mTBI.
List rehab strategies based on observed and reported diagnostic deficiencies.
The Baseline Exam of a Neuro Visual Exam – Pre-training Baselines for Neuro Visual Training and how to use them 
Neuro visual symptoms that arise after a concussion 
Neuro visual training and rehab techniques 
Testing peripheral vision- low tech vs high tech testing 
Measuring phorias 
Assessing for eye dominance and discussing how it relates to performance 
Training for eye dominance- train your athlete to be more ambidextrous with their eye dominance 
Eye dominance and eye-hand dominance interplay 
Training for improved hand-eye coordination in your athletes 
Quantitative methods to measure Stereopsis
Saccadic eye movements and progressions for athletes 
Near/Far Eye Training post-concussion
Neuro-cognitive rehab post-TBI
Eye-tracking strategies 
Working with athletes experiencing photophobia/photosensitivity 
Visual Memory Assessments 
Assessing for nystagmus in your athletes
Visual suppression and the use of Strobe Glasses 
Tranoglyphs and Vectograms for assessing and training depth perception and phorias 
Eye discipline with Retinal Retention Training- Why does it matter and how do we assess and train it? 
Reaction testing and training 
Sequential processing tasks post TBI Rehab 
High-performance vision training concerning peripheral vision 
Dynavision and T-scope 
Exertion, exercise and return to play post mTBI 
Creating an exercise prescription post-TBI 
Gaze stabilization assessment and rehabilitation
Dr. Joseph Clark's presentation at ISCN 2018 in Orlando, FL.
Early Bird Tuition: $750
General Tuition: $850
Self Paced Learning Tuition: $850
3 Days of live, on-site training with esteemed faculty*
Access to the NVT Flipped Classroom
Receive any future updates to the course videos or other materials
3 Months of Unlimited Medline Access 
Access to the digital recording of the class*
*Onsite only. No live-stream.
Re-attendance policy: Scholars who have registered and completed a course after December 2019 have the ability to re-attend the course with no additional fee. When re-attending a course, the scholar will not receive continuing education credits and will receive an audit. Carrick Institute is not responsible for providing new materials for class audits, including but not limited to manuals, shirts, equipment, etc. If manuals have been updated since the original attendance date, the updated materials will be available via PDF on the scholar's online portal. If the scholar would like to purchase a new paper manual, they may do so before the course start date.
Due to the limited seats for this program. Re-attendance for this in-person module is only available for registration 14 days in advance.
If you would like to reserve a seat for this course please email admissions@carrickinstitute.com
To view full Terms & Conditions, click here.