Presented by: Matthew Antonucci, DC, DACNB, FACFN, FABCDD, FABNN, FABVR, FABBIR, FICC
THIS PROJECT HAS BEEN YEARS IN THE MAKING. ARE YOU READY TO LEARN HOW TO DELIVER UNPRECEDENTED CONCUSSION OUTCOMES? IT'S TIME!
Over the past 40 years, the brilliance and leadership of Prof. Frederick R. Carrick has established Carrick Institute the undisputed leader of education in functional neurology. Carrick Institute has proudly produced the educational curricula that has enabled more than 18,000 functional neurology providers to deliver their patients unprecedented results. Our mission is unwavering and focus is explicit. We deliver the highest quality training in an effort to help produce the world's best clinicians. The purpose of FN-MOC is just another example of that. We plan to make you an authority in concussion management, from diagnosis to rehabilitation, with true-to-style content breath, depth, and clinical applications. This meticulously-crafted and masterfully-delivered two-level program serves as epitome of our educational offerings.  We are ready to take your career to the next level.  Are YOU?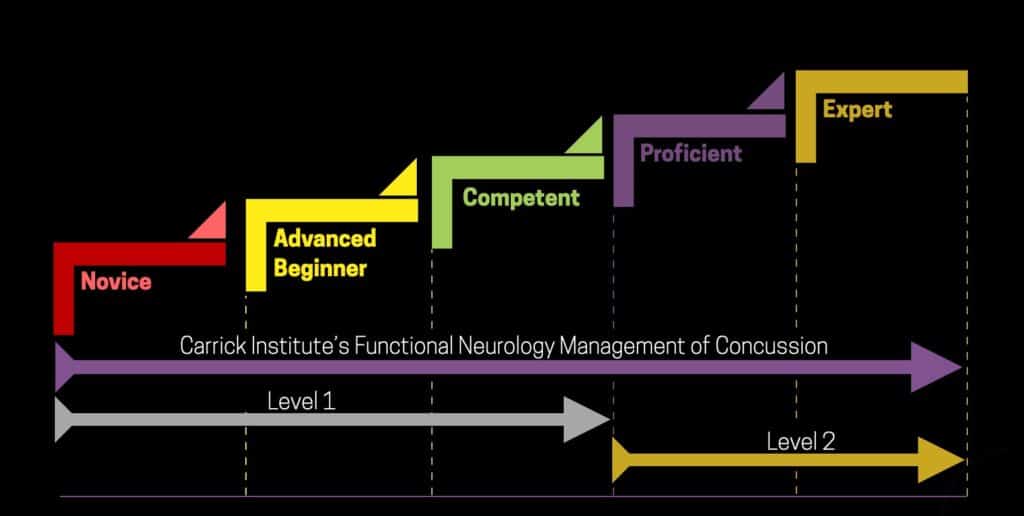 A Two-Level Approach to Concussion Management Education
The Functional Neurology Management of Concussion (FN-MOC) has been meticulously crafted for all healthcare providers with a passion for helping patients with concussions, regardless of their educational background.
Level 1  is 70 hours of education focused specifically on critically evaluating consensus statements and current publications, to guide in the development of a contemporary, comprehensive approach to concussion/mTBI. We discuss risk factors that may predict concussion. We examine factors that make individuals more vulnerable to sustaining a concussion. The pathophysiological story of an mTBI is reviewed, from the mitochondria through the abstract concept of neural networks and graph theory. We discuss the time of impact management, and urgent care, including hospital protocols, imaging algorithms, and acute care. Utilizing the decades of research that exists on concussion symptoms and clinically-evaluated dysfunction, we lay the pedagogical foundation of this course on the 7 concussion phenotypes. Special attention is given to ensure the development of competency in the entrusbable professional activities of assessing each phenotype empirically, with minimal technology, and unprecedented confidence.
Level 2 is for the dedicated practitioner that wants to be the go-to concussion solution provider in their area. It is a 280-hour mastery program designed by Dr. Antonucci in collaboration with our robust medical advisory board, to cultivate expertise in concussion and mTBI rehabilitation on the foundational concepts taught in Level 1, with a depth of information that can not be found anywhere in post-graduate education. Level 2 Scholars will learn the essential and nuanced details about human sensory processing and motor control systems that are disrupted by concussion and mTBI, and the therapeutic modalities designed to restore their integrity.
*  Please note that one must attend and complete Level 1 before attending Level 2, as Level 2 will assume proficiency in Level 1 theory, assessment, and EPAs.
This 2-level program utilizes a specific pedagogy to ensure the best learning experience for attending clinicians, while also making it available to clinicians worldwide.
Flipped Classroom – A flipped classroom is a style of blended learning that introduces crucial foundational concepts before the main lectures and applications are taught. This allows all scholars to enter the main program on the same level and encourages deeper learning on more advanced topics during the main lectures.
Interactive Asynchronous Learning – Interactive asynchronous learning allows you to learn on your own schedule.  The main lectures are pre-recorded and will be available 24/7 on your online learning portal.  Our online learning features interaction through knowledge-check questions embedded throughout the lectures, quizzing, and submission of open-ended written competency evaluations.  The material will remain on your learning portal as long as one maintains an active Carrick Institute account. We encourage scholars to review the material several times for the best learning experience.
Onsite-Learning – To achieve certification status, one must attend the onsite portion for each level.   The onsite learning will carefully instruct clinicians on the hands-on skills they need to know for proficiency in the management and rehabilitation of concussions.
Level 1 & Level 2 both have an onsite module that is required to attend to receive certification status.
Level 1 – Chapter 4 (Creating and Performing a Baseline Assessment): 3 days onsite (25 neurology hours)
Level 2 – Chapter 8 (Therapeutic Procedures Workshop): 3 days onsite (25 neurology hours)
Those who complete Level 1 & Level 2 of Functional Neurology Management of Concussion will be eligible to sit for the 
FABBIR board examination from the ACFN
.
Level 1 Objectives
Chapter 1 –  Consensus Guidelines and Recommendations [Concussion Primer Flipped Classroom (via online self-paced learning)]
Definitions and Causes of mTBI / Concussion
Pathophysiology  of mTBI / Concussion
Epidemiology of mTBI / Concussion
The Acute Management and Urgent Care of mTBI / Concussion
Treatments for Acute of mTBI / Concussion
Chapter 2 – Evaluation of the Intangible Effects of Concussion (via online self-paced learning)
The Importance of Obtaining Baseline Brain Health Measurements
Measuring Consciousness
Pathophysiology of Cortical and Subcortical Structures in mTBI
Phenotyping Concussions
Collecting Data and Creating Predictions/Prognosis
Creating a Concussion Intake Form
The Relationship Between Sensory Seeking Behaviors and Mental Toughness and Concussion
Tools for Assessing the Symptom Burden of mTBI
 Outcome Assessment Tools for Concussion, and Health-Related Quality of Life (HRQoL)
The Screening of Affect for Non-Psychologists
Screening for Sleep Disturbances in Concussion
Screening for Autonomic Dysfunction in mTBI
Supporting Literature Reviews on All Previously Listed Topics
Library of Outcome Assessment Tools and Patient Reported Outcome Measures
Chapter 3 – Quantifying Concussion-Related Brain Function at the Bedside (via online self-paced learning)
Analysis and Comparison of Contemporary Concussion Evaluation Tools (Screening, Confirmatory, Objective)
The Embryological Development of Sensory Processing and Motor Control and Its Application to mTBI and Concussion
The Role of the Physical Examination in mTBI and Concussion
The Interpretation and Correlation of Vital Signs in Relationship to mTBI
The Bedside Evaluation of Autonomic Function in Concussion
Evaluating Cognitive Performance
Optometric and Orthoptic Functional Evaluation
Assessing Somatesthesia and Motor Control
The Bedside Evaluation of Assessment of Graviception, Linear and Angular Movement
Evaluating the Effects of Sensory Error on Autonomic Function
Chapter 4 – Creating and Performing an Evidence-Based Baseline/Concussion Examination (On-site Training – 3 days)
This is a 3-day, hands-on, skill-development course. You will be the doctor and the patient. You will leave with certifiable proficiency in performing the examination procedures detailed in Chapter 3, and the results of your personal brain health baseline assessment. Please wear loose fitting clothing and bring the tools introduced in Chapter 3
This course consists of more than 50 EPAs or Entrustable Professional Activities that will be taught and perfected throughout the weekend. Scholars will need to attend, be assessed for proficiency, and must pass to achieve FN-MOC certification status.
Chapter 5 – Management of Concussion Sequela (via online self-paced learning)
Tools and Technology for Clinical Efficiency
Crafting a World-Class Report of Findings
Evidence Supported Palliative and Therapeutic Modalities for Concussion and mTBI
Including generalized approaches to:

Cardiovascular/Metabolic
Vestibular
Musculoskeletal
Visual/Oculomotor
Cognitive/Affective

Return to Activities and Return to Play Protocols
Putting It All Together: Your Community and Your Practice
Introduction to Moderate and Severe Brain Injuries
Discussion on Chronic Traumatic Encephalopathy or "CTE"
FN-MOC Certification
Chapter 4 must have been completed on-site and proficiency confirmed by the course instructor.
All 5 chapters must be complete at the time of application.
At the time of examination, applicants must present 15 de-identified, but verifiable, direct-contact experiences with an individual or individuals with concussion or mTBI.
Applicant must receive a passing score on the examination:

100 Multiple-Choice Questions
5 essay questions, 20 points each (grading rubric will be furnished at the time of examination)
Included in Your Tuition for Level 1
70 hours of training (consists of online learning plus a 3-day onsite training for Module 4 – Creating and Performing a Baseline Assessment)
All-access to the digital recording of the class.
Any future updates to the course videos or other materials.
Re-attendance*
70 Neurology Hours towards the ACFN (American College of Functional Neurology) & ACNB (American Chiropractic Neurology Board)
Access to the flipped classroom with all-access updates.
3 months of unlimited access to Medline upon completion of the module
*Scholars will receive CEU & neurology hours upon their first completion of the module. Any re-attendance is considered an audit. Scholars must maintain an active account to receive benefits.
IMPORTANT**
Chapter 4 is intended to be taken in person. You are able to take Chapter 4 course via live-stream.
* To achieve certification status, you must attend the onsite portion.
By purchasing the live-stream option below, please be aware you will not achieve certification status until you attend chapter 4 onsite.**