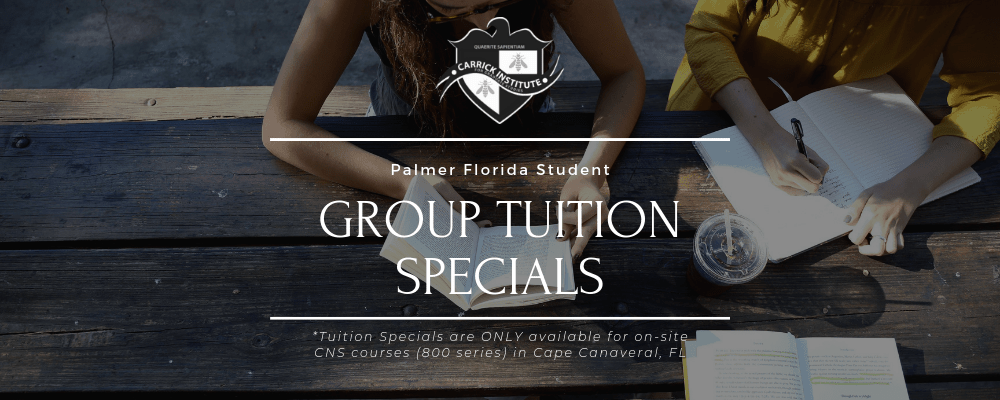 Exclusive Tuition Savings for Palmer Students
Gather all your friends because the Carrick Institute has put together a special group discount for our on-site Cape Canaveral CNS courses! For groups of 4, we are offering a tuition cost of $299/student per module For groups of 6 or more, we are offering modules for $199/student!
This discount is ONLY being offered to Palmer Florida students and can only be applied to on-site learning for the CNS program (800 series). Minimum of 4 students required to activate the discount.
The Future of Healthcare is Waiting for You.
There is no better time than now to join what is becoming the future of healthcare. The Carrick Institute's CNS program is designed to educate clinicians to work towards mastery in the application of Clinical Neuroscience in the health and human performance environments.
It is now recognized how important the nervous system is in controlling all aspects of health and performance. The clinician who is able to create an individualized neurophysiological approach for their patients will become the healthcare provider of the future.
The Carrick Institute CNS education program takes a novel approach to clinical applications of neuroscience. Our clinical scholars learn how to integrate evidence-based concepts into a patient based paradigm of healthcare. Utilizing a contemporary educational approach to problem-based learning, our CNS program is central to mastering the skills of clinical neuroscience and applying them to human function.
Tuition
For groups of 4 or more students: $299/module per student (Tuition savings of $300)
For groups of 6 or more students: $199/module per student (Tuition savings of $400)
*All students must complete the registration form and submit full-time student verification before registrations are processed
* This tuition discount is based per module
*This tuition discount is only available for on-site attendance. It can not be applied to livestream or online, self-paced learning