We are getting close to that time of year again where all of your hard work, travel, and studying have come to a pinnacle. It's neurology board examination time!
This neurology board review is one of a kind. What we have been able to condense over 300 hours of education into a hands-on, practical, focused, and comprehensive 3-day weekend that will not only assist you in understanding the structure, requirements, and information that will be presented to you at the board examination, but also provide you with a focused review of key topics in the field of clinical neuroscience.
1. We want you to be prepared and confident for this board examination so you can pass the exam and join this community of clinical neuroscience experts.
2. We want you to finish this examination with plenty of time to spare instead of sweating it out until the last second.
3. We have infused this course with clinical applications that will make all of the information that you have culminated over the last few years become very pragmatic.
Most importantly, we want you to PASS! Last year, the Carrick Institute board review attendees fostered a 94% pass rate for their examinations. So if you are serious about becoming boarded as a functional neurologist, we hope that you will join us for this review so that are armed with the tools, technique, and knowledge you need to prepare yourself for the ACNB Examination!
"The material presented definitely put my mind at ease regarding the board exam, and the level of detail at which the docs explained the physical exam was exactly what I needed. The information was distilled down to the most relevant applications to the board exam. Very effective use of time"
*On-Site seats will be limited so make sure to save your spot!
If you're unable to attend live, we have you covered and you can register for our Live Stream Learning option!
Date:
August 18-20, 2017
Friday 9:00AM – 6:00PM
Saturday 9:00AM – 6:00PM
Sunday 9:00AM – 6:00PM
Location:
Carrick Institute Learning Center
8910 Astronaut Blvd, Cape Canaveral,
Florida, 32920
or
Live-Stream
---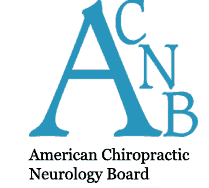 2017 Exam Date:
OCTOBER 20-22, 2017
Exam Registration is open January 1, 2017 through July 31, 2017
For information about the exam, please contact April Cousins, Executive Director at executivedirector@acnb.org or call (254)-231-8508.