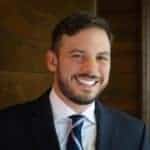 David Traster
DC , DACNB, FABBIR Assistant Professor of Clinical Neurology
Social Media:
Facebook: https://www.facebook.com/Dr-David-Jay-Traster-280022072204896/ Facebook: https://www.facebook.com/southfloridaintegrativehealth/ Instagram: southfloridaintegrative
Bio:
Dr. Traster grew up in an athletic family and started playing basketball competitively from a very young age.  At 17 years old, his health took an unexpected turn for the worse and he was forced to spend almost a decade searching for answers from some of the best doctors in the world.  Eventually once recovered from his health problems, he became dedicated to understanding human physiology and how to improve one's health so that he could prevent others from suffering as long as he did.
Dr. Traster holds a Master's Degree in Sports Health Science, a Diplomate in Chiropractic Neurology, a Fellowship in Brain Injury and Rehabilitation, is a Certified Sports Chiropractic Physician®, a Certified Practitioner of Applied Kinesiology, a Certified Performance Enhancement Specialist, a Certified Corrective Exercise Specialist, and a Certified Personal Trainer.
Dr. Traster has lectured across the world for health care practitioners in all fields in topics relating to neurological and physical rehabilitation and performance enhancement.  Dr. Traster also works as a consultant to practitioners from around the globe in regards to their most difficult patient cases.
One of the highlights in Dr. Traster's career has been working alongside Dr. Carrick during his patient rounds over the past 7 years.  Dr. Traster has also published over 40 case studies in peer-reviewed journals.
Dr. Traster maintains a private practice in Miami, Florida where he treats patients of all ages from around the world.  Dr. Traster specializes in athletic and executive performance enhancement, as well as neurological and physical rehabilitation.