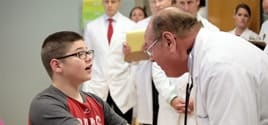 A request we often hear from our scholars is their desire to learn an updated physical and neurological exam from Dr. Carrick. Until now, the only way to do that was to watch the DVD's that Dr. Carrick recorded in the early 90's or attend Grand Rounds worldwide.
Today, we are pleased to announce a 3-day seminar presented by Prof. Carrick: Physical Examination 2016: Modern Clinical Applications.
Here is your opportunity to learn directly from Prof. Carrick.  His contemporary exam has accrued him world-wide recognition as an expert diagnostician and clinician.
In this seminar you will learn from Dr. Carrick how to:
take a comprehensive and efficient patient history
master the art of clinical observations by understanding the subtlety of human performance.
his modern physical and orthopedic examination
his updated neurological examination and reasoning behind his methodology
how to transition your clinical model from one of hemisphericity to specific neuro-localization
learn the correlates between the patient's physical exam and neurological presentation
Update your treatment of neurological findings with Dr. Carrick's latest clinical applications
In this special 3-day event Dr. Carrick will share with you all the experience he has gathered and how it has transformed him as a clinician.. over four decades of clinical practice.   This will be a hands on practical learning experience.
Due to this seminar's hand's on nature, it will NOT be live-streamed and space will be limited. Register today to upgrade your physical exam and clinical application toolbox!
[ESPRESSO_TICKET_SELECTOR event_id=2810]
Link to register: https://carrickinstitute.com/events/physical-examination-2016/
To register for this event, one must have an account for the new website: https://carrickinstitute.com/register/