We are excited to announce our NEW Clinical Neurochemistry & Nutrition Program!
This class will be taught in a VIP class format which means that upon completion of this program you will know exactly how to assess, diagnose, and manage your patient's metabolic conditions using vitamins, minerals, herbals and nutrition, as well as how to implement this new model of care in your practice.  This program was designed as a completed A to Z solution for the practicing functional neurologist.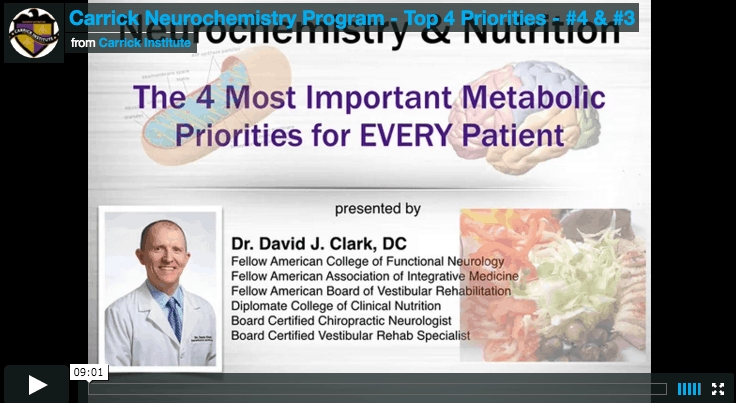 Click here for a FREE 2 Part Video Series from Dr. Clark to Learn the
4 Most Important Metabolic Priorities for EVERY Patient
Benefits of the Neurochemistry and Nutrition Program
All recommendations are based on published literature and clinical experience supporting your evidence based practice.
No disclosures.
Brand neutral. This program was designed to teach you exactly what will help your patients using a broad spectrum of nutriceuticals from multiple sources.
Dr. Clark is a full-time solo practitioner, with a very successful practice who's treatment protocols are evidence based and have been tested on the field.  He has worked with a wide range of neurological, endocrine and immune system problems with consistent and reproducible results.
Practice management – In addition to learning which protocols will help your patient best, also learn from the instructor how a true functional medicine clinic (structural care + neurological care + nutrition) is implemented as a cash practice with a logistical and methodical implementation plan that you can begin to implement into your practice right away.
Generate another revenue stream in an ethical manner.  On average, the instructor distributes $25,000/month of supplementation from various companies using protocols that genuinely help patients.
Attendees will be taught a way to think, understand & apply neurochemistry and nutrition for their patients, rather than pathways or protocols to memorize.
This program series will focus on natural, non-pharmacological methods that are within your scope of practice.
Case-based learning…this is practice for the real world.
Each module will provide actionable, implementable intake, diagnostic and treatment procedures that you can begin using immediately.
VIP Class Format
We have decided to make the format of the class  more interactive and personal than ever before.  We are limiting the classroom size so there will be opportunity for questions and discussion; where some of the best learning occurs.  Our goal with the VIP class format is to help physicians master the material and transform themselves and their practice upon completion of the Clinical Neurochemistry & Nutrition program series. No doctor will be left behind during this series.
Carrick Institute Guarantee
We are confident that you will be pleased with the quality of the education you will receive during the Clinical Neurochemistry & Nutrition series.  On the first day of any module, if you feel that you are not receiving the value you paid for, then return the manual and you will receive an immediate refund. We stand by the quality of education that we produce.
Tuition / Course Pre-Pay Option
Tuition cost is $850 per module for general learners and $425 for students enrolled in a full-time program for PT, DC, MD, DO, etc.  The pre-pay option the entire series is $4500 for the program, saving you $100 per module, $600 over the course of the entire series.
Clinical Neurochemistry & Nutrition Program Outline
Module 1 – Core concepts and principles of Clinical Neurochemistry
Neuron and synapse structure and physiology
The internal biochemical environment of the neuron
Neural Membranes
Neuron biogenergetics
Neurotransmission
Disorders of the membranes, energetics, and neurotransmission
Physical and neurological examination correlates
Clinical Conditions discussed: Epilepsies, Stroke, Pain
Module 2 – The Four Systemic Metabolic Priorities that Affect Neuron Health and Function
Iron and Red Blood Cell Chemistry
Blood Sugar regulation and Adrenal Gland physiology
Liver and Gastrointestinal physiology
Autoimmunity
Physical & Neurological examination correlates
How to use Laboratory Testing
Clinical Conditions Discussed: Type 2 Diabetes, Hypothyroidism, Fatigue, Anemias, Hepatic Biotransformation, Adrenal dysfunction
Module 3 – Systems Neurochemistry
Autonomic Nervous System
Neuromuscular Junction
Basal Ganglia
Cerebellum
Hypothalamus
Limbic System
Vestibular System
Clinical Conditions discussed: BPPV, Chronic dizziness & dysequilibrium, Anxiety, OCD, PTSD, Insomnia, Peripheral Neuropathies
Module 4 – Neuroimmunology & Neuroinflammation
The Immune-Neuroendocrine Network
Cytokine Receptors and Production in the Brain
Effects of Cytokines on Brain Function
Effects of Immune System on Brain Neurochemistry
Regulation of the Inflammatory Response in the Brain
Neuroimmune Cross Talk
Role of Glia in CNS inflammation
Autoimmune processes in the Central Nervous System
The inflammatory component of Neurodegeneration
Clinical Conditions discussed: Multiple Sclerosis, Demyelinating conditions, Depression, Migraine, CRPS, TBI, Intestinal Permeability, Schizophrenia, Bipolar Disorder, Autism
Module 5 – Neurodegeneration
β amyloid
α synuclein
Tau
Neurofibrillary tangles
Stages of Alzheimer's Disease
Glutamate
Necrosis and apoptosis – cell death and survival
Mitochondrial dysfunction, excitotoxicity, oxidative stress
Genetics
Clinical Conditions discussed: Parkinson's, Alzheimer's, ALS, Dementia, Encephalopathies, TBI, Autism
Module 6 –  Review & Clinical Applications of Core Concepts & Principles
In this last module, we will weave all previous modules together into a robust and flexible diagnostic and treatment model utilizing what we've been talking about all along:

Neuorchemistry principles
Patient History
Physical/Neurological examination
Lab Testing
Diet modification
Supplementation

This module serves as an excellent overview in preparation for the certification examination
Frequently Asked Questions
Will the Clinical Neurochemistry & Nutrition program be recorded?
– We will be recording the program in a new high-quality format for on-demand delivery. We are excited to give access to this practice changing education to learners all around the world.
Will the Clinical Neurochemistry & Nutrition program be live-streamed?
– To take excellent care of the VIP scholars who attend the live class, we have opted to not live-stream the class, but rather to record it for on-demand delivery at a later time. We plan to release the on-demand material 10-14 days after the live event.
Can I receive credit hours for this program?
– Every module is eligible for hours towards the DACNB as well as specialty hours towards the Fellow of the American Board of Neurochemistry & Nutrition (FABNN) through the ACFN.
What is the VIP class format?
– To ensure that every live attendee has a superior learning experience, we have decided to create the VIP class format. We are limiting the class size to 15 attendees to foster an environment of rich learning and discussion. The goal is to have the doctors that attend the live VIP classes have a firm grasp of the material AND learn to implement this model of care into their practice by the completion of the program. Dr. Clark and his staff will be working closely with every doctor in the classroom. As a bonus, those who attend the live classes will be given access to the on-demand recordings to reinforce the learning.
Will this program be offered again in another location?
– This program is held in Orlando, FL for the 2016-17 series. We intend to have this program in a live format every 2-2.5 years. Until the live class returns, the program will be available for On-Demand delivery for learners all around the world.
Schedule
[ESPRESSO_EVENTS_TABLE_TEMPLATE category_slug=neurochem category_filter=false table_search=false]