"I have been in practice for 31 years. This course was so well done. It teaches you the truth of how to use nutrition to improve a patients health. It teaches you the functional conditions so solutions can be achieved. Dr. Clark is brilliant. However, he is also an amazing teacher. His passion to help you learn the material is amazing. I do not know when Dr. Clark sleeps. His research and staying current is almost frightening. I highly recommend this class to anyone who wants to learn how to help human kind improve their well being."
Carrick Institute is proud to bring you a NEW Neurochemistry and Nutrition program taught by Dr. David Clark, Assistant Professor of Neurochemistry!
The Carrick Institute's mission is to offer the highest quality training in an effort to help produce the world's best physicians. Part of becoming a good diagnostician is being able to recognize different patterns in our patients and then deciding where to make an intervention to yield the patient the best results.
With great pride we bring you the updated Neurochemistry and Nutrition program.  This series will explore the chemistry of the nervous system, how the chemical processes of the body affect brain and nervous system function, and the ways in which the brain influences the internal chemical environments.
Attendees will learn clinical nutrition treatment strategies utilizing supplements (vitamins, minerals, nutrients, botanicals) and diet. There will be a strong focus on clinical application of the material so learners can serve their patient population right away. Clinical cases are provided to illustrate core principles and facilitate mastery of the subject areas.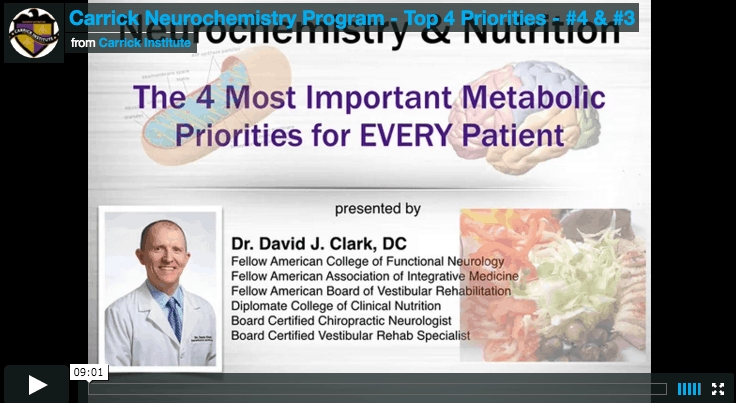 Click here for a FREE 2 Part Video Series from Dr. Clark to Learn the
4 Most Important Metabolic Priorities for EVERY Patient
Benefits of the Neurochemistry and Nutrition Program
All recommendations are based on published literature and clinical experience supporting your evidence based practice.
No disclosures.
Brand neutral. This program was designed to teach you exactly what will help your patients using a broad spectrum of nutriceuticals from multiple sources.
Dr. Clark is a full-time solo practitioner, with a very successful practice who's treatment protocols are evidence based and have been tested on the field.  He has worked with a wide range of neurological, endocrine and immune system problems with consistent and reproducible results.
Practice management – In addition to learning which protocols will help your patient best, also learn from the instructor how a true functional medicine clinic (structural care + neurological care + nutrition) is implemented as a cash practice with a logistical and methodical implementation plan that you can begin to implement into your practice right away.
Generate another revenue stream in an ethical manner.  On average, the instructor distributes $25,000/month of supplementation from various companies using protocols that genuinely help patients.
Attendees will be taught a way to think, understand & apply neurochemistry and nutrition for their patients, rather than pathways or protocols to memorize.
This program series will focus on natural, non-pharmacological methods that are within your scope of practice.
Case-based learning…this is practice for the real world.
Each module will provide actionable, implementable intake, diagnostic and treatment procedures that you can begin using immediately.
Clinical Neurochemistry & Nutrition Program Outline
Module 1 – Core concepts and principles of Clinical Neurochemistry
Neuron and synapse structure and physiology
The internal biochemical environment of the neuron
Neural Membranes
Neuron biogenergetics
Neurotransmission
Disorders of the membranes, energetics, and neurotransmission
Physical and neurological examination correlates
Clinical Conditions discussed: Epilepsies, Stroke, Pain
Module 2 – The Four Systemic Metabolic Priorities that Affect Neuron Health and Function
Iron and Red Blood Cell Chemistry
Blood Sugar regulation and Adrenal Gland physiology
Liver and Gastrointestinal physiology
Autoimmunity
Physical & Neurological examination correlates
How to use Laboratory Testing
Clinical Conditions Discussed: Type 2 Diabetes, Hypothyroidism, Fatigue, Anemias, Hepatic Biotransformation, Adrenal dysfunction
Module 3 – Systems Neurochemistry
Autonomic Nervous System
Neuromuscular Junction
Basal Ganglia
Cerebellum
Hypothalamus
Limbic System
Vestibular System
Clinical Conditions discussed: BPPV, Chronic dizziness & dysequilibrium, Anxiety, OCD, PTSD, Insomnia, Peripheral Neuropathies
Module 4 – Neuroimmunology & Neuroinflammation
The Immune-Neuroendocrine Network
Cytokine Receptors and Production in the Brain
Effects of Cytokines on Brain Function
Effects of Immune System on Brain Neurochemistry
Regulation of the Inflammatory Response in the Brain
Neuroimmune Cross Talk
Role of Glia in CNS inflammation
Autoimmune processes in the Central Nervous System
The inflammatory component of Neurodegeneration
Clinical Conditions discussed: Multiple Sclerosis, Demyelinating conditions, Depression, Migraine, CRPS, TBI, Intestinal Permeability, Schizophrenia, Bipolar Disorder, Autism
Module 5 – Neurodegeneration
β amyloid
α synuclein
Tau
Neurofibrillary tangles
Stages of Alzheimer's Disease
Glutamate
Necrosis and apoptosis – cell death and survival
Mitochondrial dysfunction, excitotoxicity, oxidative stress
Genetics
Clinical Conditions discussed: Parkinson's, Alzheimer's, ALS, Dementia, Encephalopathies, TBI, Autism
Module 6 –  Review & Clinical Applications of Core Concepts & Principles
In this last module, we will weave all previous modules together into a robust and flexible diagnostic and treatment model utilizing what we've been talking about all along:

Neurochemistry principles
Patient History
Physical/Neurological examination
Lab Testing
Diet modification
Supplementation

This module serves as an excellent overview in preparation for the certification examination
Frequently Asked Questions
Will the Clinical Neurochemistry & Nutrition program be recorded?
– We will be recording the program in a new high-quality format for on-demand delivery. We are excited to give access to this practice changing education to learners all around the world.
Will the Clinical Neurochemistry & Nutrition program be live-streamed?
– To take excellent care of the VIP scholars who attend the live class, we have opted to not live-stream the class, but rather to record it for on-demand delivery at a later time. We plan to release the on-demand material 10-14 days after the live event.
Can I receive credit hours for this program?
– Every module is eligible for hours towards the DACNB as well as specialty hours towards the Fellow of the American Board of Neurochemistry & Nutrition (FABNN) through the ACFN.
Will this program be offered again in another location?
– This program is held in Orlando, FL for the 2016-17 series. We intend to have this program in a live format every 2-2.5 years. Until the live class returns, the program will be available for On-Demand delivery for learners all around the world.
On-Demand