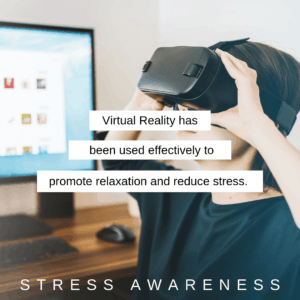 Stress Awareness Tip: Virtual Reality has been used effectively to promote relaxation and reduce stress.
Virtual Reality works by changing the sensory input that our brain receives, changing our brain's interpretation of our current reality. There are currently three approaches to virtual reality that aim to achieving relaxation, stress reduction and emotion regulation.

1️⃣ Relaxing VR: In this approach, the user is presented with contents inspired or directly derived from classical relaxation techniques, such as progressive muscle relaxation, autogenic training, yoga, and meditation. The user is shown these environments to help them feel safe and as a result help them relax.
2️⃣ Engaging VR: This approach requires the user to interact with the virtual contents to train emotional regulation. In this scenario, the environment is flexible and modifiable based off the users interactions.
3️⃣ Personalized VR: A newer approach to VR relaxation is personalized VR, which is a user-centered approach that is built on distinctive features picked up by users' memories of relevant life events.
Which method of VR would you want to try for relaxation?
Source: Pizzoli SFM, Mazzocco K, Triberti S, Monzani D, Alcañiz Raya ML, Pravettoni G. User-Centered Virtual Reality for Promoting Relaxation: An Innovative Approach. Front Psychol. 2019;10:479. Published 2019 Mar 12. doi:10.3389/fpsyg.2019.00479
https://www.ncbi.nlm.nih.gov/pmc/articles/PMC6423066/
#stressawareness #VR #virtualreality #stress #carricktrained#carrickinsight #neuroscience #brainhealth #brain #neurology#education #research