Online, Self-Paced Learning with Carrick Institute
Why Online Learning?  Increasing the value of your education impacts your life and the lives of those around you.  In the Neuro Community, lifelong learning is just part of the package.  In today's world, higher learning doesn't have to drastically affect your day-to-day schedule.  Now you have the chance to grow at your own pace, on your own time, from (just about) anywhere in the world.  Start your online, self-paced education with Carrick Institute today!
Study to become a Board-Certified Clinical Neurologist, or simply choose on-demand courses which appeal to you.
The Carrick Institute empowers clinicians and students with the tools necessary to better serve humankind as the Clinical Neurologists of tomorrow by providing them with the most up-to-date information available today. The highest standards in education, patient care, and innovation are upheld by our dynamic faculty, who share a common commitment to this cause.
Since 1979, Dr. Carrick and the Carrick Institute have been the leading authority in the training of physicians and therapists in the field of postgraduate clinical neurology. Over 14,000 clinicians have taken courses with Carrick Institute, in an effort to serve millions of patients at a higher level.
9 Benefits of Taking Carrick Institute Courses via Online, Self-Paced Learning:
Attend on-demand classes anytime, anywhere, all you need is web access.
Access course materials 24 hours a day, 7 days a week.
Learn from renowned instructors around the world, broadening your perspective.
Enhance your ability to help patients.
Take advantage of course notes to help guide you through the lesson.
Interact with instructors via video and text chat.
Take quizzes to assess retention of the material.
View your courses as many times as you like with lifetime access.
Enjoy the total flexibility of on-demand education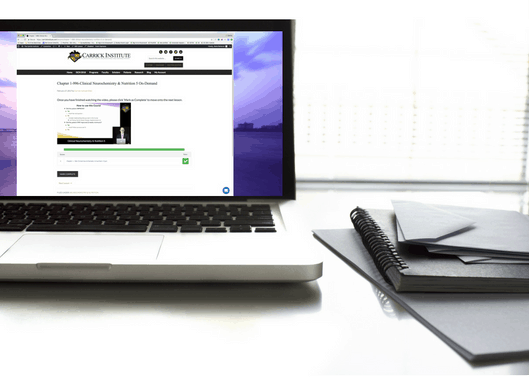 Choose From Hundreds of On-Demand Courses Within Multiple Programs
Online, Self-Paced Modules are pre-recorded classes that have been turned into online courses for the convenience of our scholars.  On-Demand classes include lifetime access, so you can do the class on your own time. Each class has notes, quizzes and the option for you to re-watch the class as many times as you would like.
Yes! All Carrick Institute online, self-paced courses count towards hours for the ACNB and ACFN. You will receive a Proof of Attendance for each On-Demand Course Completed. In some States, these courses will count towards your state Continuing Education, but you will need to check with your state.
*Case Reviews on-demand do not count for any hours.*
Yes! Course materials include quizzes and notes to increase knowledge retention and test your comprehension.