Welcome 2020 Virtual Neurology Summit Attendees!
Thank you for attending Prof. Carrick's presentation during the 2020 Virtual Neurology Summit. Carrick Institute is dedicated to providing the best education in Clinical Neuroscience to clinicains and scholars around the World.
As a special gift to the attendees of the 2020 Virtual Neurology Summit, the Carrick Institute is giving away the following:
Free educational content from Carrick Institute

Free access to Prof. Carrick's Clinical Applications to the Basal Ganglia

50% off Module 825: Introduction to ReceptorBased Rehabilitation
PLEASE FILL OUT THE FORM BELOW TO RECEIVE YOUR FREE GIFT:
MASTER OF SCIENCE IN CLINICAL NEUROSCIENCE DEGREE PROGRAM​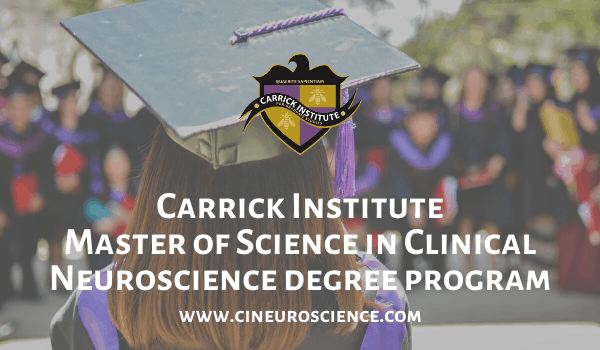 The Carrick Institute has successfully completed a full Institutional and Curriculum review and site inspection by the Florida Department of Education's Commission for Independent Education. This process has taken us several years and we are pleased to have received a Provisional License from the Florida Department of Education's Commission for Independent Education to offer the Master of Science degree in Clinical Neuroscience as it continues its mission of National and Regional Accreditation.
Our MS-ClinNeuroSci degree program is designed for healthcare professionals that desire an academic Masters degree in clinical neuroscience. There is a significant demand for clinical academics trained in neuroscience at universities, research labs and in clinical practice. Our program is a unique experience based upon our 40 years of experience educating healthcare professionals in neuroscience.
We welcome you to learn more about our Master of Science in Clinical Neuroscience Degree Program at cineuroscience.com
FOUNDATIONAL & CORE PROGRAMS